INTERNSHIP PRODUCT-LIFECYCLE-MANAGEMENT
Start: March 2022
Study Course: Computer science,
Business informatics or industrial engineering
INTERNSHIP PRODUCT MANAGEMENT
Start: March 2022
Study Course: Technical studies with points of contact to product management
INTERNSHIP Business Development
Start: from now
Study Course: Business administration, technology management or industrial engineering
THESIS PRODUCT-LIFECYCLE-MANAGEMENT
Start:  March 2022
Study Course:  Computer science,
Business informatics or industrial engineering
INTERNSHIP Product Launch & Media Production
Start: from now
Study Course: Mediadesign or media and education management
THESIS MULTI-PROJECT MANAGEMENT R&D
Start: March 2022
Study Course: Technology, management and optimization, industrial engineering
Working Student PRODUCT MANAGEMENT (m/f/d)
Start: March 2022
Study Course: Technical studies with points of contact to product management
Working Student (m/F/d) Knowledge Management
Start: from now
Study Course: Media -, communication or education management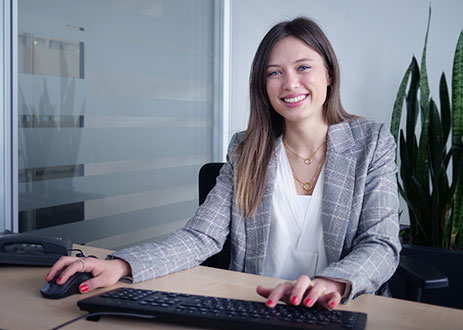 Alessia Baumgart
HR Specialist
Do you still have questions about the positions for students? Then contact us and we will answer your questions.
AVL SET GmbH
Franz-Joseph-Spiegler-Str. 5
88239 Wangen
E-Mail: jobs-wangen@avl.com
Phone: +49 7522 91609-0
Working Student (m/F/d) Business Development
Start: from now
Study Course: Business administration, technology management or industrial engineering
Working Student PROject MANAGEMENT R&D (m/f/d)
Start: March 2022
Study Course: Business informatics, industrial engineering or business administration
We would like to give you an insight so that you can imagine the people behind our vacancies and their real working day.
In our employee videos, development engineers in various areas, such as software development or models and control design, project managers and controllers answer your questions.